The following excerpts are from a story in today's New York Times entitled "Rallies Across the Globe Protest Economic Policies".  It didn't make the front page, only the 4th.  Maybe we'll look back at this as the beginning, when people demanded the real and practical (not bogus "democracy"), that the economic and political systems, and the technological, and everything, be focused on meeting the unmet needs of humanity, and be addressed to solving the true pressing problems of humanity, rather than those systems serving as a vehicle for the enrichment or profit of the few.    There is, after all, enough for everyone.
"Buoyed by the longevity of the Occupy Wall Street encampment in Manhattan, a wave of protests swept across Asia, the Americas and Europe on Saturday, with . . .people expressing discontent with the economic tides in marches, rallies and occasional clashes with the police. . .  arrested in New York . . . accused of trespassing in a Greenwich Village branch of Citibank . . . demonstrations across Europe . . .people marching past ancient monuments and gathering in front of capitalist symbols like the European Central Bank in Frankfurt. Similar scenes unfolded across cities on several continents, including in Sydney, Australia; Tokyo; Hong Kong; Toronto; Chicago; and Los Angeles . . . despite the difference in language, landscape and scale, the protests were united in frustration with the widening gap between the rich and the poor. . .protesters entered a Chase branch in Lower Manhattan . . . Saturday's protests sprang not only from the Occupy Wall Street movement that began last month in New York, but also from demonstrations in Spain in May. This weekend, the global protest effort came as finance ministers and central bankers from the Group of 20 industrialized nations meet in Paris to discuss economic issues . . . In London, where crowds assembled in front of St. Paul's Cathedral, the ubiquitous emblems of the movement were on display. "Bankers Are the Real Looters" and "We Are the 99 Percent," . . . "We don't feel represented by the government. Alessia Tridici, 18, said in Rome. "We're upset because we don't have prospects for the future. We'll never see a pension. We'll have to work until we die."       
Source URL: http://www.nytimes.com/2011/10/16/world/occupy-wall-street-protests-worldwide.html
Photos & captions below accompany the Times article and can be seen at link above and at
http://www.nytimes.com/slideshow/2011/10/15/world/20111016-PROTESTS.html?ref=world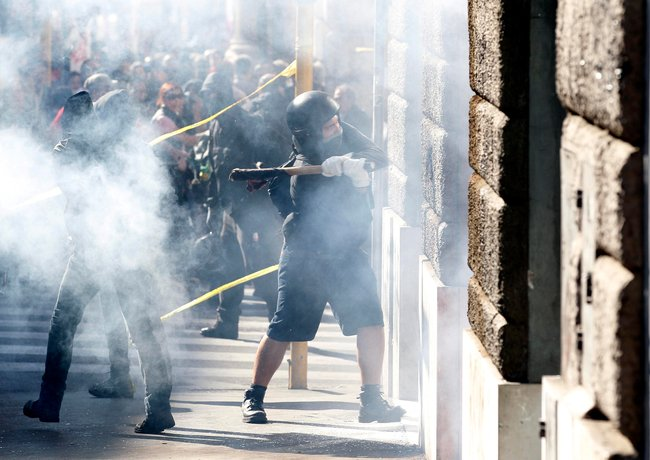 Demonstrators attempt to break through the entrance of a bank branch during a demonstration in Rome on Saturday.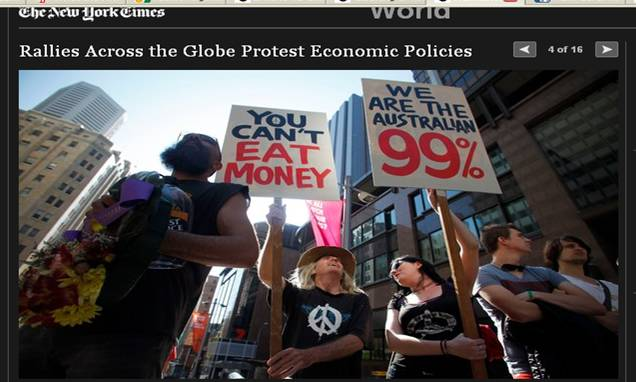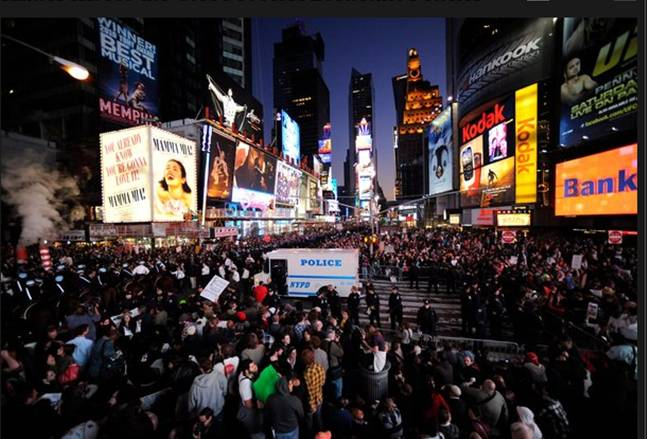 Times Square in New York City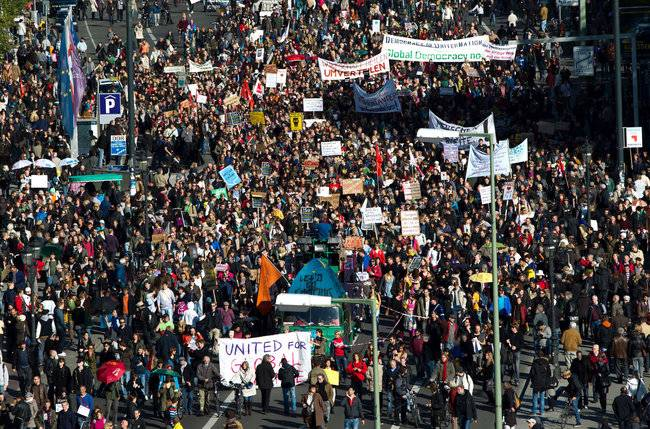 Protesters marched through the streets of Berlin to support the Occupy Wall Street movement on Saturday.